BOOKS
New Release 'Deception' available now!
DECEPTION
Grief, love, lies and revelations … 
Crete Foster loves her life in the idyllic, rural paradise of the Northern Rivers. Her solace is in her natural ability to ride and train champion Arabian Dressage and Sport horses.
Stunned when told the truth about her parentage Crete is forced to re-evaluate everything she believes about herself and her family. When she discovers links to the Island of Crete, a planned family visit sees her captivated by the island and its people. What starts out as a holiday searching for answers turns into a sequence of events setting off unforeseen and ruthless consequences.
As Crete struggles to solve the mysteries around her biological father, she is forced to ask, can a lie, however well-meant, ever be contained or controlled? But more importantly will Crete learn that letting go is the first step to keeping love?
FRAMED
A story of three women, three uncertain futures and three second chances …Divorced art dealer Stella is at a pivotal place in her life. Poised between doubt and hope, a surprise invitation offers a solution.
When she is introduced to the world of the Arabian horse Stella realises it's time to live for herself.
Julia appears strong and independent, a woman proud of her achievements until she begins to question the discontent in her life, while Sage the vulnerable twin of a talented and artistic sister is troubled by her disturbing memories.
Called upon to verify the authenticity of two well known equine paintings, Stella is accompanied to Melbourne by Julia and Sage.
It's not long before all three women become entangled in what appears to be an elaborate art scam. All three women are required to use their unique skills to assist a Melbourne detective apprehend those responsible for a crime as devious as those behind it.
CONSEQUENCES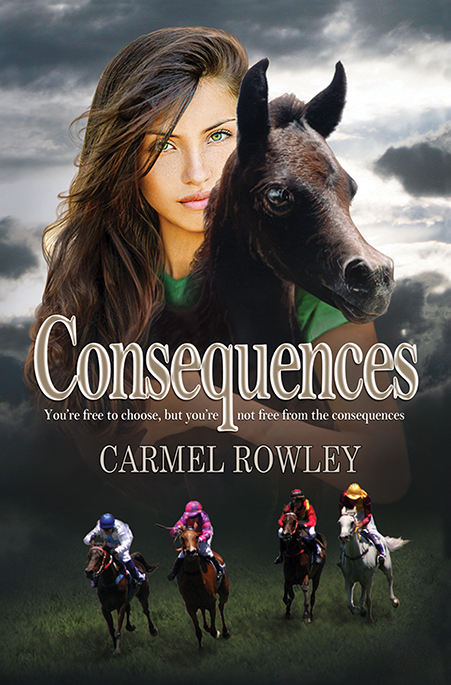 Murder, blackmail and broken promises …
Popular television host, Danni Norris appears to have it all. But when a detective friend asks for help to unravel a mystery, surrounding a ten year old cold case, Danni finds herself deciphering more than a simple open and shut case of murder.
Set on the Darling Downs, amidst the newly established Australian Arabian Racing scene, Consequences tells a story of dreams turned inside out and how the death of one can dictate the fate of others.
Danni questions her life and when she re-discovers her love for Arabian horses she decides to take a much-needed break from the stresses of her career. At the same time she cautiously becomes involved with the enigmatic Justin Raine.
While the Arabian horse may be adored for its great beauty and athleticism, Danni soon discovers a dark side to all the adoration. Waiting is a world full of secrets, lies and unscrupulous dealings.
And within that world waits a killer …
WINDS OF TIME
Book Three of the Daughters of the Wind series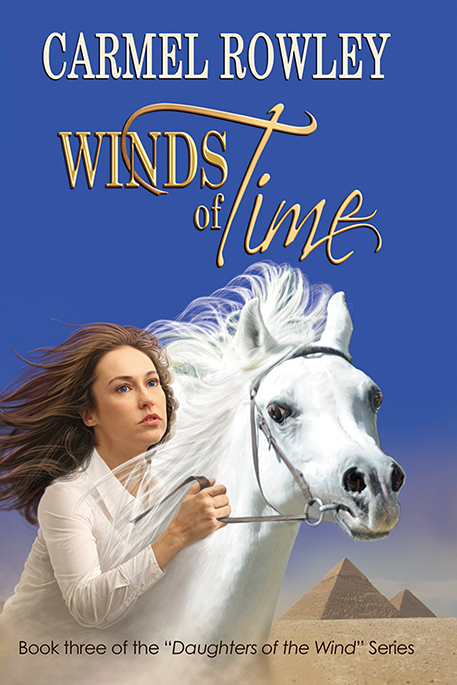 Deep in the heart of the Arabian desert a terrible secret lies hidden by the shifting sands …
On her Darling Downs Arabian horse stud, life for Jessikah Carey unfolds in a smooth and predictable way. That is until she receives a surprise invitation from her elderly aunt in Egypt. More like a summons than an invitation, Jessikah is intrigued yet troubled.
Why after all this time is Aunt Athiia demanding to see her?
Jessikah travels to Egypt where she uncovers a tumultuous and bitter past interwoven with an intriguing mystery, the splendour of Egypt and the lives of her ancestors and their love of the Arabian horse. Little does she realise the impact this trip will have on her life and the ones who love her. She must harness the courage to untangle a lifetime of unspeakable events, while unearthing the answer to a crime the perpetrators prayed would remain hidden forever by the winds of time.
VOICES IN THE WIND
Book Two of the Daughters of the Wind series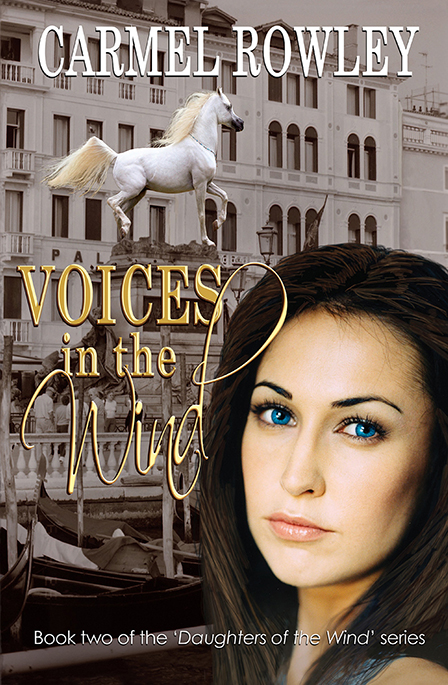 The persistent neighing of horses resonated on the soft wind. Was it a warning for Jessikah to heed caution and remember the past?
Jessikah Lloyd is devoted to breeding Arabian horses. But a sequence of events, during the holiday of a lifetime, will alter her life forever. A mysterious incident in Venice is followed by the passion of the Palio in Siena.
At a major German Arabian horse show, events take a darker turn. Nothing can prepare Jessikah's family for a deathbed revelation, linked to an old betrayal, or the traumatic events that follow.
From the black soil valleys of Australia's Darling Downs, the green hills of the Loire Valley, Venice's antiquity and the rush of Siena's Palio comes the next instalment in The Daughters of the Wind series.
TAILS CARRIED HIGH
Book One of the Daughters of the Wind series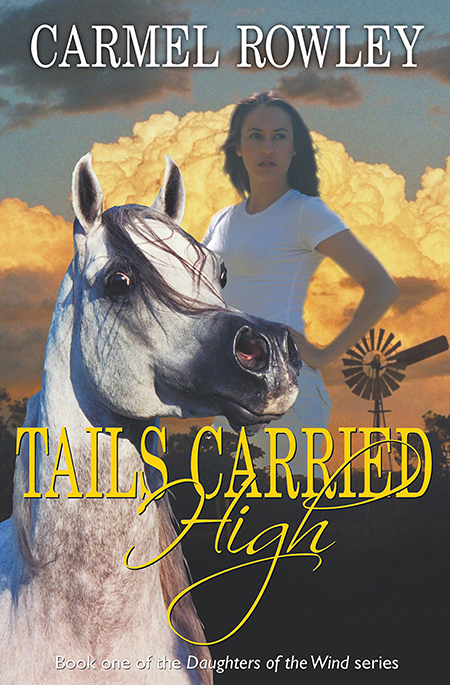 After her mother's death, Jessikah Lloyd throws caution to the wind, leaving England in search of her family history in Queensland, Australia. As disturbing secrets are revealed, Jessikah learns that, had her mother remained in Australia, she would have been the fourth generation in a long line of Arabian horse breeders.
Jessikah finds the ego-driven world of the Arabian horse industry fascinating, but what she longs to know eludes her. How did her grandmother Emma Hagen die twenty-five years ago? Who now owns the property, and why is the once beautiful stud farm crumbling? When good-looking Marc Carey agrees to help her in her search for the truth, it's not long before both Marc and the Arabian horse become irresistible. It is time to unlock the family secrets …
THE ARTFUL ARABIAN HORSE COLOURING BOOK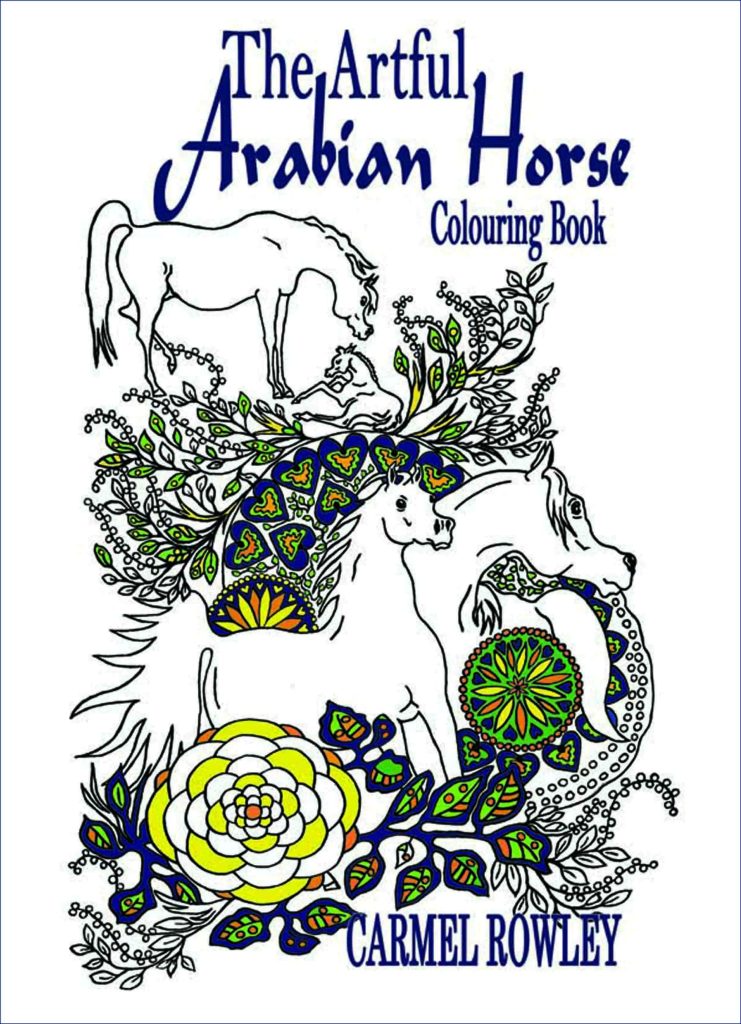 Anyone interested in the purebred Arabian and studies its history often looks to the early artists to understand the sought after characteristics of this ancient and noble breed.
The Arabian horse is a phenomenon of nature and a masterpiece of design. While my colouring book is not designed to be a masterpiece, it is designed to give pleasure and provoke thought.
The purebred Arabian horse is an enchanting treasure to the horse lover and as it is important to preserve objects of art the harmony of the Arabian horse must also be preserved. As the pages are coloured the wish is for reflection and the desire to know more about one of the world's most noble of horses.