Review – Fire of Heaven by R.J. Leenman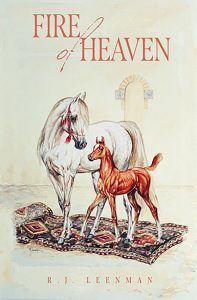 "A horse in the wind – a perfect symphony." – Unknown

There's something special when you can look back after having achieved a milestone. Especially one you said you were going to deliver on. So many people have told me how they would love to write a book. It's a long and drawn-out task and could be likened to breeding Arabian horses. Of course, this is something Rodney knows about. He also realises success is a constant process. You must keep focusing and trying to balance the mental, physical and spiritual to achieve one's goals.
Knowing all the above, I was thrilled to be contacted by Rodney Leenman telling me that he had finished his book and it was now published. He also asked if I could write a review. And it's my pleasure to present my review for Rodney's novel FIRE OF HEAVEN. Congratulations Rodney.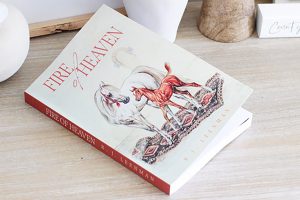 FIRE OF HEAVEN – R.J. Leenman
May 21, 2022 – Carmel Rowley – Independent Author at Pearsons View Publishing, Australia.
Set in pre-Islamic times, debut novel Fire of Heaven by R.J. Leenman, immediately introduces the main character Selim. A young man whose responsibilities and incredible tenacity are constantly tested.
Selim's endeavours to search for the truth regarding his tribes long held sword 'Al Maksour' soon points his path in an interesting direction. He pushes on with this puzzling quest and when things go wrong, he proves to be a truly admirable character.
Fire of Heaven covers the exciting Arabian horse racing of the era, along with the descriptive landscape and the stature of the Arabian breed– the author has obviously done his research.
The main character and the introduction of family and friends keeps one on their toes but within the story they evolve into delightful and interesting people. It's these characters, the changing adventures, the regions and locations along the way that add to the stories integrity. The racing scenes make for an enjoyable read.
Not surprisingly, the horse related parts of the novel are convincing and the terminology correct when relating to Arabian horse. The actions of the characters were easy to picture and didn't seem farfetched.
As a debut novel R. J. Leenman's Fire of Heaven, offers something different and enjoyable for those who love horses, legend and history.
Author: R. J. Leenman
Fiction – Suitable for all ages
Purchase 'Fire in Heaven' here: https://fire-of-heaven.square.site/