Arabian Horse in Poetry
This week I felt a strong desire to continue to ponder poetry and especially the Arabian Horse in Poetry.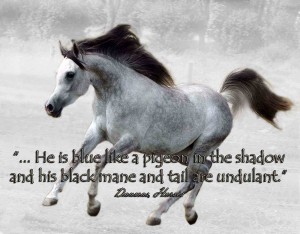 When you love the Arabian horse, the words from the ancient poets stroke your soul and strum a tune with your heartstrings. In Judith Forbis' The Classic Arabian Horse, I read in Ancient Arabia, the poet was said to be endowed with supernatural knowledge and an oracle of the tribe. He was a guide in peace time and their champion during war. A great poet, Ibn Rashiq of Kairouan (d. A.D. 1064) said the words: "The Arabs congratulated each other on three things: the birth of a boy, the emergence of a poet in their midst, or the foaling of a mare."
When you read any of these works you realise how poetry and the Arabian horse are tied by the spiritual, not the material. The same can be said for our Australian indigenous Aborigine and the native American Indian, all possess a unique knowledge and understanding of nature and feel the strong bond of kinship with all life.
"My horse is the champion of all steeds.
He is blue like a pigeon in the shadow
and his black mane and tail are undulant.
He endures hunger and thirst and can see a great distance.
He is a very great drinker of the Arabic air.
He is the terror of the enemy in combat.
At the moment of firing rifles
Mebrouk is the great pride of the country."
Daumas, Horses