Unconditional Love – Introducing Nana Maisie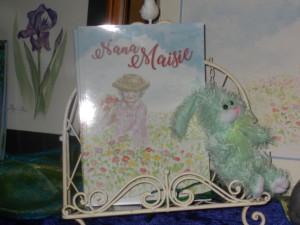 Today I was delighted to  introduce Terese Eglington's latest children's book NANNA MAISIE at the Country Hearts Event Group Artisan Market at the Glennie School Hall in Toowoomba.
As an educator, dance teacher and a mother of four, Terese has gained
a knowledge and understanding of child learning, development and entertainment. And for those who don't know – Terese published her first children's picture book WOT-SI-U AND THE WHISPERING WATTLES in 2014. Her second book THE LAUGHING TREE followed.
These are charming children's books that reflect Terese's love of nature, poetry and her passion for painting and art.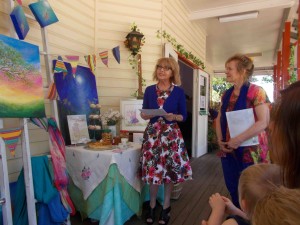 Introducing Nana Maisie
With Nana Maisie we're reminded of the importance of grandparents in the lives of children. Before our culture became so mobile, it was common for children to grow up surrounded by extended family, including one or both sets of grandparents.
Many of us remember a childhood with weekly visits to see Nana.
While some children's grandparents live nearby, others live hundreds (if not thousands) of kilometres away. But, even with the difficulty of distance, young children talk excitedly about seeing Nana and Grandpa, during the school holidays or for a simple weekend visit.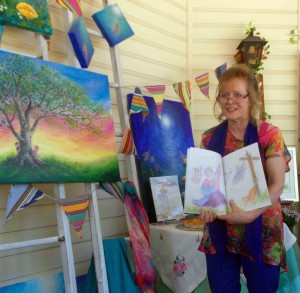 Terese reading Nana Maisie
Nana Maisie speaks of unconditional affection, the joy of life, of family, and the concern of memory loss, followed by good decision making as grandparents age. For some people, Nana Maisie's situation is familiar, for others a faint possibility. But the realisation that Nana is becoming far more forgetful than she used to be leads to a crossing over to a new stage of life for many real life grandparents and of course the family.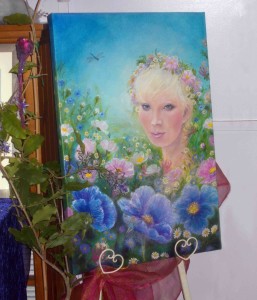 One of my favourites – by Terese Eglington
Nana Maisie is done in an engaging, real manner and I think we all recall life-long memories of special times spent with our grandparents. I've no double Terese will combine her talent for painting and share her joy to inspire children to be themselves, love life and be creative, for many years to come.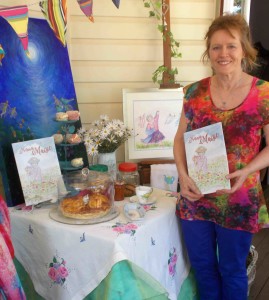 Congratulations Terese on your release of Nana Maisie.
Visit Terese's website    http://tereseeglington.com/  If you wish to purchase copies of her books you can contact Terese via email: wotsiu@outlook.com  or Facebook

WHAT ABOUT FRIENDSHIP?
 Author Carmel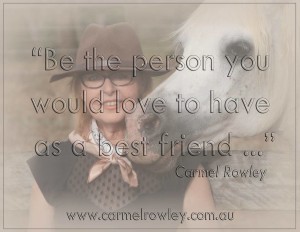 Friendship revisited.For me, hardly a day would go by without thinking about my friends. To extend the warmth of friendship is one of the greatest gifts we have to give to one another. My fascinating new pastime as an author has opened up my life and introduced me to people I may never have known. I'm constantly amazed and thrilled by the people I meet, in fact I've come into contact with people of all ages and enjoyed every minute of the new and renewed friendships. It's a subject I love and one that's the focus for the next book I'm writing. We all know there are no guarantees in life and at times I wonder how friendship keeps surviving the pessimism that pervades our world today. But continuing friendship costs no more than forgiveness.
How to Create Truly Supportive Friendships
www.about.com
Make the Most of Your Social Circle
By Elizabeth Scott, M.S., About.com Guide
A good friend can supply the helping hand you need in a crisis. Research shows that healthy and supportive relationships can reduce stress and improve your overall health and sense of well-being. However, all relationships are not equally supportive. Building a network of supportive friends, or even just one supportive relationship, can be vital to your well-being. Here are some key skills that can help you to build relationships with people that are truly supportive and sustaining.
Meeting People- The more people you have in your life, the more likely you are to have truly supportive relationships with at least one of them. It's beneficial to be able to regularly add new people to your circle. Here are some good ways to meet people, and some tips to remember when making a new friend.
Time Management- It's important to make time to nurture relationships, and to go out and have fun with friends. You may feel like you just don't have time to spend on this, but time management and organization techniques can help you find more time in your life to spend on friendships. These techniques can also help you to show up on time, remember birthdays and other important events, help friends when they're in need, and do other things that will strengthen friendships and make them supportive.
Assertiveness- People often think of assertiveness as 'standing up for yourself' and 'not letting people push you around' — basically the alternative to passivity. While this is mostly true, assertiveness is also the alternative to aggressiveness, a way of handling people where you get your needs met at the expense of others' needs. Developing the skill of assertiveness can really help you strengthen your relationships, making them mutually supportive, lasting and opening the lines of communication.
Listening to Your Friends- When we've had a hard day, sometimes being able to talk to a friend about our feelings is all it takes to turn things around and make stress a feeling of connection and well-being. Being truly listened to and understood can have profound effects on us. When dealing with friends, it's important to give as well as receive this supportive type of listening when support is truly needed. Here are some things to remember when friends are talking about things that stress or upset them:
Ask them about their feelings, and listen.
Reflect back what you hear, so they know you really understand.
Instead of always trying to tie the conversation back to your experiences, focus questions on them and their feelings.
When they're talking, are you missing some of what they say because you're waiting for them to stop talking so you can say what you want to say next? Stop, and really listen to them.
Learn more about how to be a good listener, an important skill to have.
Listening to Your Intuition- Some people give off positive energy that makes us feel good, and others give off negative energy that drains us. If you pay attention to the signals that your intuition sends you and act on those signals, you'll have a healthier social circle. Here are some questions to ask yourself:
Does the conversation flow easily, or is it forced?
Do you feel they truly understand, accept and support you?
Do you feel you truly understand, accept and support them?
Do you feel better or worse about yourself when you're with them?
Do you leave them feeling energized or mildly depressed?
Do you include them in your life for positive qualities they have, or just to have more people in your life?
Letting Go- Not everyone is an appropriate match. If there's someone in your life who makes you feel bad about yourself, doesn't share any of your interests or values, or is someone that you just don't mesh well with, it's perfectly acceptable to put that relationship on the back burner, let it fade altogether, or not develop it in the first place. Even if you were at one time close, people change and grow in different directions. That doesn't mean there's something 'wrong' with either of you. But if someone in your life is no longer good for you, it's perfectly acceptable to let them go. (Conversely, if you'd like to keep them in your life out of loyalty, albeit in a periphery role, that's OK, too. However, it would be beneficial to remember not to count on them for support, if they're not able to give it to you.) Only you know if the relationship is worth keeping or not. But it is important to have several people you can count on for support in your life.
It takes some work, but cultivating a circle of truly supportive friendships can make a huge difference in how you handle stress and life.
Photograph D Rowley

YOU CAN STILL FIND A TREASURE – for Thursday is Art Day
Isn't it exciting to think that in this crazy but wonderful world you can still find a treasure? And through the far reaching world of the Internet you can come into contact with some of the most incredibly interesting people.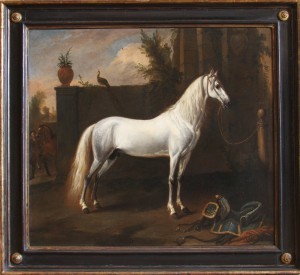 The Grey Arabian by Jan Wyck – oil on canvas 40 x 50 in
One of these people would have to be Daniel Hunt from the UK. His business is Art; situated at his  "Fine Art" dealings in Sloane Street London. Daniel is a man with a marvellous taste in Art,  especially Equine Art. So imagine the coincidence when the latest book I'm writing delves into the art world and out of the blue I have an email about an incredible painting of early equestrian art. It seems a little surreal and very exciting to be contacted from across the world and shown such a rare and wonderful picture.
More exciting when Daniel said, "I ran into your blog which resonated with me  – loved it. The growth of the internet does have some amazing benefits! I loved your blog with my "horse breeders" hat on – I'm happily obsessed with it in my small way. I bred and broke and pretrained a horse called Imperial Aviator with my kids."
BUT even more exciting that the painting titled 'The Grey Arabian' by Jan Wyck is this wonderfully refined portrait of a classic Arabian horse. The work shows all the refinement of a desert bred animal as well as the large luminous eye, tiny pointed ears and the marvellous shoulders I've always admired in the Egyptian and Egyptian cross purebred Arabian.   I could hardly wait to share the information Daniel emailed for Thursday is Art Day.  If you love Arabian horse art as I do I'm sure you'll enjoy reading the document below as much as I did. I'm also a little bit in love with The Grey Arabian  by Jan Wyck and I'm sure there's someone out there who would adore this remarkable painting for their art collection. Daniel's details are at the end of the post. Enjoy the information …
ABOUT  – The Grey Arabian  by Jan Wyck (1652-1702)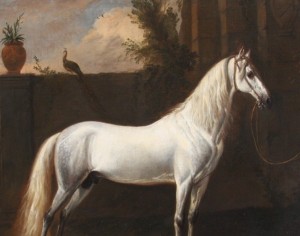 This magnificent work by Jan Wyck must be regarded as one of the most significant examples of early equestrian art in England. It has an intelligence of characterisation that marks it out as being part of that true movement of English equestrian art, a movement in which the understanding of the horse becomes a fundamental part of the history of art, as it does for two and a half centuries, in a way that happens in no other country. It is also a work also entirely of its era, Baroque in its elegance and landscape, romantic in its individuality, confident in needing no squire or groom.
The painting is all the more fascinating, all the more powerful, for it being classically representative of a new Baroque portrayal of equine individuality and confidence. Before this period magnificent beasts were certainly committed to canvas, but they – like Van Dyck's rearing and testosterone-filled chargers – were so often merely Roman animals, there to act as seating for uncertain emperors and diminutive kings. The portraits were seldom about the horses themselves.
It was partly, perhaps, the rise of sporting art at the end of the seventeenth century, combined with a more fervent pursuit of luxury and leisure – one cannot ignore the influence that Louis XIV's court and his love of hunting must have had on the future Charles II – that allowed art to stray towards the horse as prime subject matter.
Certainly, it was also the more direct influence of Jan Wyck himself who brought the Dutch equestrian portrait genre to England. His oil studies of individual horses are perhaps his most original contribution to the history of English art. One further contribution that cannot be ignored – he taught the great John Wootton, who went on to exemplify English equestrian and military art in the 18th century.
The English equestrian portrait develops through the 18th century and early 19th century into defined sections and sub-sections, developing individual traditions – on the one hand incorporating direct and oblique strands of sporting influence (the inclusion of grooms and owners and tack), on the other, setting scenes at race courses, in stables, in pastures, or in hunt country. All the while honouring individuality and breeding, and the character of the English horse, as it evolves through diverse and developing use.
The best examples retain the direct sense of communication and character inherent and first recognisable in the Jan Wyck – and the twist of interpretation that counts as beguiling charm – as in Sawrey Gilpin's 'Arab Stallion Held by a Groom'. At the end of the 18th century sparser compositions develop for racecourse portraits, some of almost abstract simplicity, featuring the sides of buildings and a simple horizon as the backdrop to a horse portrait.
Each development appears to lead back to an ancestral, pure format from the end of the 17th century, a grand master, one of the great equestrian portraits by Jan Wyck. They are works of huge importance to English: in and of themselves, for their revolutionary boldness and their celebration of equestrian individuality, and also for the lineage they lay down, the blood line that courses through the history of English art for the next two hundred and fifty years.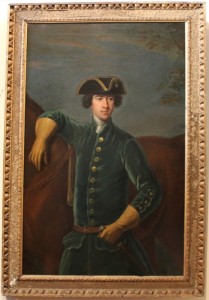 About Jan Wyck

Jan Wyck was born in Haarlem, the son, and subsequently pupil, of the painter Thomas (van) Wyck (c.1616–1677). Wyck made his name in England as a specialist at painting horses in battle and hunting scenes, topographical and classical landscapes, and portraits of people, animals, and buildings.

His father visited Rome in the 1630s, and much of his subsequent output was of Mediterranean street or harbour scenes, though he also painted Dutch domestic interiors and alchemists' laboratories. He married in Haarlem on 22 May 1644, and came to England c.1664 where he drew and painted views of London, and night scenes of the great fire. Father and son were established in London in this decade, and on 17 June 1674 Jan promised to present his 'proofe peece', and pay his own and his father's quarterly fees to the Painter–Stainers' Company in the City of London. On 24 November 1680 he was placed upon 'The Committee of Acting Painters' of the company to represent working painters as distinct from the decorators and interior designers. Thomas soon returned to Haarlem where he died and was buried on 19 August 1677.

Jan Wyck married three times and had seven children by his second and third wives, though the four by his second wife all died young. Wyck himself died on 26 October 1700 in Mortlake to where he had removed from Covent Garden after the death of his second wife in 1687.

Wyck was a relatively prolific artist, and numerous works by his survive. His portrayals of equestrian subjects, which included battle scenes in the style of Wouvermans, hunting scenes (of which genre he was a pioneer in England) and topographical views of country houses and estates were widely collected by patrons in the highest strata of society. He must have been widely itinerant, since his topographical paintings depict places as far afield as Windsor, Dunham Massey in Cheshire, Sprotborough Hall in Yorkshire and the new docks at Whitehaven.

He was also an extraordinary pioneer of the equestrian portrait in England. It was, perhaps, inevitable that this sort of subject-matter would have endeared him to his generally grand clientele, since his arrival in England coincided with a boom in the arts at the Restoration after the visually-deprived years of the Commonwealth.

Wyck seems to have enjoyed Court Patronage from fairly soon after his arrival in England: a Battle Piece is recorded in the royal inventories taken at the time of the Glorious Revolution of 1688 and he is presumably to be identified with the 'Jan van Wijck' who was taken to Holland in 1682 to 'help … find out horses' for Queen Catherine, wife of Charles II. Wyck's drawings of country pursuits appeared as engravings in Richard Blome's The Gentleman's Recreation (1686). Two of these drawings for the latter are in the British Museum, along with his drawing of The Thames During the Great Frost of 1683/4.

His work is represented in numerous Museums and old country house collections in the UK; his pupil John Wootton continued his master's style well into the 18th century. He died on 26 October 1700 in Mortlake.
Daniel Hunt, Fine Art 60 Lower Sloane Street London  SW1W 8BP
Tel: 0207 259 0304 Mob: 07798 625545 email:  daniel-hunt@btconnect.com

Learn, Live, Love, Welcome 2017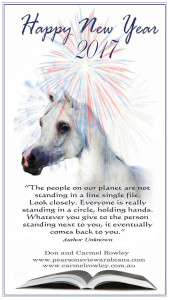 Can you believe that a new year is once again upon us. For me it's a time to be thankful and to start afresh, to start the year with a determination, knowing 2017 offers yet another opportunity to try again and be excited about what I can achieve.
Albert Einstein said, 'Learn from yesterday, live for today, hope for tomorrow.'
Just for interests sake, 2017 is the year of the Rooster, starting from January 28th, and ending on February 15th, 2018. The year of the Rooster is tenth in the Chinese zodiac. Each year is related to an animal sign according to a 12-year cycle. Years of the Rooster include 1933, 1945, 1957, 1969, 1981, 1993, 2005, 2017, and 2029. People born in a year of the Rooster are very observant, hardworking, resourceful, courageous, and talented. Roosters are also very confident in themselves.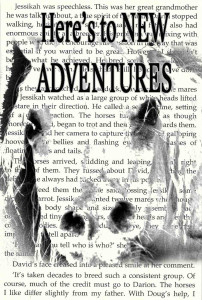 I think of a New Year as a perfect opportunity to review and think about what I would like to happen over the next twelve months. I know it's a cliché and we say the same thing every year BUT one of these years I'll definitely make my goals come true. I've jotted down how I believe my goals can be achieved. I might give you some ideas.
The power of positive thinking…
I know you will be thinking , just another cliché! But this one happens to be TRUE! I read once that it is not what happens to you that counts as much as how you react to what happens.
Put in the effort…
I believe the only way to get what you want is to put in the effort required to get it. I have many people ask me about my path-breaking effort as an independent/self publisher and they often shocked when they learn the HUGE amount of effort I have had to put into this journey so far. And I'm about a mile down the road – of a thousand mile journey!! There are still dramas but I'm handling them with a more positive frame of mind.
There's always failure…
Failure is not failure when you learn from it. For me failure or my mistakes have forced me to learn new skills.
Do what you are passionate about…
Look at your past achievements. What you are passionate about? This passion may help you discover what it is you wish to do. If you're a writer write about what you LOVE!
Setting your goals…
We have nearly come the full circle! Time to turn your passion into a practical reality.
Finally one of the most important lessons in life…
Giving back to others! The absolute best aspect of achieving some success is that it enables you to help others achieve the same.
Everyone needs a reminder now and again as they strive to turn their idea, plan or dream into reality.
Take it from me, it is never too late and one is never too old to achieve life's goals! All you have to do is take that first step on the road to your dreams! I still may have many miles ahead of me but at least I'm well on my way.
Wishing you beautiful moments, treasured memories, and all the blessings a heart can know.
Happy New Year.
Carmel

ARABIAN HORSES – What we do affects everything (Round 2)
written by Carmel Rowley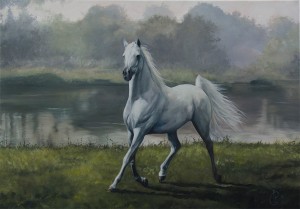 *Salah Sihr (dec) straight Egyptian stallion imported from the US by D&C Rowley
Painting 'Morning Run' by David Lloyd Collins UK
These days there's no way to get around the fact that I'm no longer young. Though I'm still young at heart and thoroughly enjoy mixing and talking to all ages. So if I take the time to think about where I am in my life, I'm pretty happy. Yes life has tossed me a few curve balls this year but I know many others are either suffering the same situation or facing worse.
I've always been up for a challenge, you have to be in order to stick at and breed Arabian horses for forty years. It was horses that led me to two other passions, which includes why people make specific life choices and, my writing. More than anything, I've always loved sharing what I know with others. What could be better than assisting others to fulfil THEIR passion?
It's a wonderful thing to be involved with horses. The freedom that riding gives you and the sharing of the constant highs and lows teaches you humility when this huge animal puts such trust in you and agrees to the demands you place upon him. It's easy to find yourself swept away in awe living and working with horses.
But, these days hardly a week goes by without someone voicing their concerns for the horse industry in Australia and elsewhere. It doesn't appear to be in great shape. When you think about the industries that involve horses you realise why there's concern. There are more than enough horses to fill the requirements needed for things like primary production, sports and recreational interests. For purely pleasure breeds such as Arabian horses times are indeed difficult but it is all man made.
In saying this, I must mention that we are at a critical turning point because the baby boomers who are the 5.5 million people born between 1946 and 1965 – have begun to turn upwards of 65 years of age. The advent of the baby-boomer generation deciding to scale back or to stop breeding has had a profound effect on breed groups. It's not only the Arabian breed that's affected,
I've also discussed this point with thoroughbred breeders. Mind it's worth a mention that the baby-boomers are no lily-livered generation. They were the fuel that pushed the Arabian breed forward during the 1960's 1970's, 80's and 90's.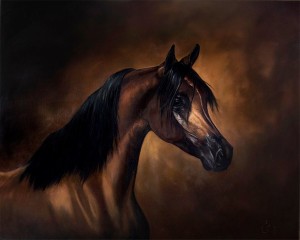 Pearsons Vogue by David Lloyd Collins
People now in their fifties will be bringing to later life a range of life experiences and expectations that are profoundly different from those of previous generations. There's much to learn about patience and dedication from the baby boomers. New breeders should look to them for advice. They are the first generation to face an expectation of a decade or two of relatively healthy life after retirement.
Thanks should go to these breeders who assisted in paving the road to success internationally. Today the Australian Arabian is recognised as a superior individual worldwide.
It's well known that Thoroughbred breeding and racing is a massive contributor to the Australian equine economy but we should note that other breeds make important economic and social contributions. These include camp drafting, rodeo, polocrosse, pony club, endurance riding, equestrian federation activities, pleasure and leisure riding. In the last few years Arabian Racing is growing in popularity, offering breeders an incredible opportunity should they decide to think outside the square and take the opportunity. But now it's time for Generation X to make their mark. (birth dates ranging from the early 1960s to the early 1980s).
When you think about it, the horse industry draws like-minded people together. With the introduction of the Internet it doesn't matter where you live or what country you're from horse people are passionate and active in their respective breeds and disciplines.
With this in mind regardless of when you were born isn't it time to take responsibility for the horses we breed. Take the time to inform and share the many ways that potential friends and clients could experience owning an Arabian horse. I know this became our motto for the people who visited our stud. I vowed to share my knowledge once I acquired information worth sharing. When we purchased our first Arabian horses knowledge was not shared. You know the movie with the line, 'give me the money' that's my earliest recollection of Arabian horse people. Not a great recommendation but that's life and it could be why horse people have such a terrible reputation in the wider community.
We weren't put off by people's opinion of what we were doing because WE KNEW what we wanted, done lots of homework and paved our own road. We decided to manage our stud our way even if it was different to others.
Later with our visitors we learned to channel all our ideas and ideals into some fabulous discussions. It became second nature to spend hours night after night on the telephone. When people came to stay they could witness far more than a stylised version of owning horses. They saw the reality.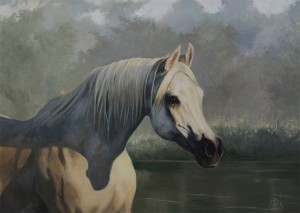 Simeon Sarah by David Lloyd Collins
At present in Australia there are more horses being bred than are needed. This has happened before and in the Arabian world it's usually around every ten years or so. Breed, breed, breed, the popular look until there's an oversupply, prices fall, and sell at any cost or give away. I won't go into the great number of unwanted.
Where has our common sense gone? Have breeders been so motivated and focused on themselves they forget the consequences of their actions? If you're nodding yes, you have already realised we live in a very self-absorbed society.
One thing breeders need to remember is that everyone has to buy from someone and if a breeder hasn't put forth any effort to share their passion, a positive outlook combined with knowledge of the past and an honest optimism for the future why would their horses be chosen. When was the last time someone who didn't know anything about horses come to meet your horses?
Do you know if EVERY horse owner introduced their horses to one, new interested person the number of people who would return or in time buy a horse could probably double? These people may ride or simply wish for a horse that's friendly and broken to saddle.
So now I ask, do you break in your horses? I've heard, I can't do that so many times I can't keep count.
Now here's another secret and one that could make a funny story, it's fine you can laugh – but I broke in our first horses, two part bred fillies back in 1973 using Tom Roberts's amazing books.
If I can do it why can't you?
Again, think about if we double the number of people who are in the process of deciding they would love to own a horse. What do you do about it? Hard sell, harass them with phone calls? I like another way.
I encourage everyone to invite someone who is interested in horses to their farm and have them enjoy the experience of seeing your horses not only with their eyes but through their fingertips, touch. Then allow your friendliest horse to blow on their face. I guarantee they will love it. Children become hysterical with delight.
Surely I don't need to tell anyone about the importance of introducing the next generation to our horses?
So now I'm back where I began. I'm passionate about horses. I own Arabian horses and have bred Arabian horses for forty years. Horses led me to two other passions. The first is a fascination in people's life choices and as a result my writing. More than anything I've always loved sharing what I know with others. What could be better than sharing a passion? It's time to become a glass half-full type of person. The past has shown us the fragility of the passion we all enjoy. Shouldn't we learn from the past and travel every conceivable pathway to a place where we do better for the horses we love.
Be generous; share your passion with newcomers and never forget that those passion filled encounters might help save an industry. Your own industry.
David Lloyd Collins is a  professional Equestrian & Pet portrait artist, working in oils on canvas, from his home studio.

SHOW BUSINESS – the Top of the Range Arabian Event 2016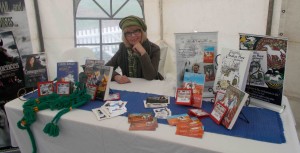 This weekend I attended the Top of the Range Arabian Event and came away with one question. What did I learn from the weekend? I won't bore you all with every detail but the brightest beam of light would have to be the enjoyment of all who attended.
The people who go over and above to show their horses, the people who sponsor classes, the people who run the show year in, year out, the people who are booked to judge, and even the people who support by simply coming to watch the beautiful horses.
I applaud the hard working committee and observe their common goal and the respect they have for one another. The weekend program went smoothly and this in itself makes for a relaxed and happy show. The judges were efficient, friendly and smiling.
For those of us who socialise, catching up with dear friends old and new is pretty special. But for me personally the incredible people who took the time to stop buy some books and to tell me how much they enjoy my stories I thank you from the bottom of my heart. Without your support I would never be able to continue publishing my books.
Of course, I'm biased when I say that Australia has the world's best Arabian horses and Arabian horse breeders and despite the chilly weather (the days following the show have been amazing) I witnessed some magnificent horses and so many smiling and enthusiastic faces.  This is a show with a heart and soul, born decades ago by people who truly loved Arabian horses and desired only good for the breed. Congratulations to all associated with this show, you should be very proud of your achievements as the heart of this show is still beating with strength, determination and a clear love of the Arabian horse.

HAPPY BIRTHDAY – GUNSYND
Gunsynd
'The Goondiwindi Grey'
Foaled October 4 1967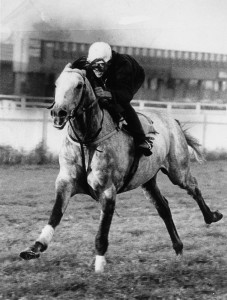 Champion-racehorse-Gunsynd-being-ridden-at-trackwork-April-1973
Gunsynd : the Goondiwindi Grey | John Oxley Library
Queensland History of Racing.
Read more www.queenslandhistoryofracing.com.au
Australians love a great racehorse and Gunsynd was one of the best. He even had a song written about him.
Gunsynd would have had to be one of the most popular racehorses to come out of Queensland. He cost only $1300 as a yearling and ended up Australia's top money earner in the early 1970s. A brilliant miler who is the only horse to win Australia's four Group 1 miles – Epsom, Toorak, Emirates and Doncaster – in the one season. Ran third in a Melbourne Cup carrying a mammoth 60kgs. Throughout his career, Gunsynd was trained by H. Wehlow and the late, great T.J. Smith
His sire Sunset Hue was a talented racehorse and as a 2yo won over 5 furlongs and was second in the AJC Sires Produce. In 18 race starts he also won an Encourage Hcp and AJC Trial Hcp over 10 furlongs before being injured in VRC Derby which resulted in an early retirement to stud. In addition to Gunsynd Sunset Hue also sired the stakes winners Sunset Sue, Sun Opal, Sunset Gem, Sunset Red and Thumb Print. Gunsynd was a member of his third crop and Sunset Hue was ultimately at stud for 8 seasons.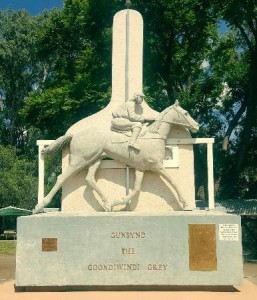 Gynsynd statue Goondiwindi
Gunsynd's dam was Woodie Wonder was a twin. That she survived and then went on to produce a champion at stud is a great story in itself. She started in only one race where she ran third at Tamworth before going to stud. Gunsynd was foaled in 1967. Woodie Wonder died in April 1980
Gunsynd had a total of 54 starts with 29 wins, 6.5 – 2nds, 8 – 3rds, 7 – 4ths