SUNDAY QUOTE OF THE WEEK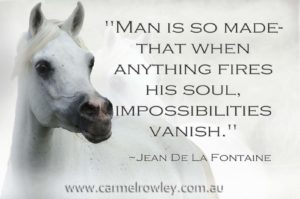 "Man is so made that when anything fires his soul,

impossibilities vanish."    — Jean De La Fontaine
Philip Humbert is one of the people I always considered a mentor. He wrote constantly about surrounding yourself with positives and the importance of self motivation.
He quoted Zig Ziglar in several of his Newsletters so today I thought I'd share three of my favourites with you …
"People complain motivation doesn't last. Well, neither does a shower. That's why I recommend both every day." ~ Zig Ziglar
"You can get everything in life you want if you will just help enough other people get what they want." ~ Zig Ziglar
"You don't have to be great at something to start, but you have to start to be great at something."           ~ Zig Ziglar
Philip encourages his readers to:-
'Read, listen to audio programs, talk with exciting people and surround yourself with things that energise you!  He added, that we live in a bad news world. It wears everyone down! To counter this, surround yourself with things that energize, challenge and excite you.'
Words by Dr Philip E. Humbert : Copyright (c) 2014, all rights reserved. U.S. Library of Congress ISSN: 1529-059X You may copy, forward or distribute TIP's if this copyright notice and full information for contacting Dr Philip E. Humbert are included.
Contact him at: www.philiphumbert.com or email Coach@philiphumbert.com

BOUND TOGETHER words Carmel Rowley

Enthusiasm is the yeast that makes your hopes shine to the stars. Enthusiasm is the sparkle in your eyes, the swing in your gait. The grip of your hand, the irresistible surge of will and energy to execute your ideas.     ~Henry Ford
I can't help but notice how people are bound together and connected by the fascination of particular events, animals, artwork and even in the individual people we  admire. Many are not extraordinary people but ordinary people who possibly understand how the power of enthusiastic thinking and personal effort taps into our potential to succeed and remain connected.
As Chief Seattle, Leader Of The Suquamish And Duwamish Native American Tribe said: "All things are bound together. All things connect. Whatever happens to the Earth happens to the children of the Earth. Man did not weave the web of life, he is merely a strand in it. Whatever he does to the web, he does to himself."
Whether you breed horses or write books and now I've done both, you realise life doesn't hand out easy answers and although there are testing times we all know how important it is to accept failure for what it is. What is it they say; failure isn't failure as long as we learn from it. I've learned lessons from many things that I no longer remember but I have never forgotten a failure.
When I began to write my first book Tails Carried High I was incredibly busy working on and off the farm. I knew nothing about writing books and I felt exactly as I did as a ten year old having my first serious riding lessons trying to apply all the details that accompany a good seat – all at once!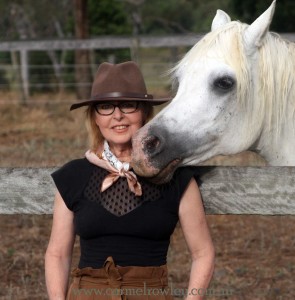 But I accomplished my goal (in time) and from that experience I knew exactly how hard I would always have to work to succeed at writing.  Somehow along the way I became as enthusiastic about writing as I was about breeding horses.
Was I tired and occasionally discouraged? Hell yes!
Did I have a lot to learn about writing books? Hell yes!
Am I there yet! Hell no!
Over the years I knew I was doing something I truly loved. Both horse breeding and my dedication to writing became a magnet to create and foster all the enthusiasm I needed to draw me closer to my goals and successes.
I never stopped learning during all the decades I bred horses and  it appears to be the same with writing.  But there are deeper explorations which fired my imagination, there's my admiration for architecture and art and also the earthy beauty of the Australian bush. When you sit and take notice enthusiasm is like music entering your body to create and feel the energy of nature in all its often brutal beauty.
To take notice of everything  to evoke enthusiasm is impossible.
But where would we be without enthusiasm?
I love to be around enthusiastic people because enthusiasm like panic is infectious. How gratifying is it to shift your opinions and clear your vision to someone else's ideas.
Man's mind, stretched to a new idea, never goes back to its original dimension. ~ Wendell Holmes
Enthusiasm is a bright beacon that spreads it's light to all who remember the power of dedication, and discipline. Lets face it breeding horses sure takes dedication and discipline. But aren't we all bound together by our enthusiasm and by what we love. we can't sit around and expect others to fire your enthusiasm. It doesn't take years of hard work to become enthusiastic it just takes practise.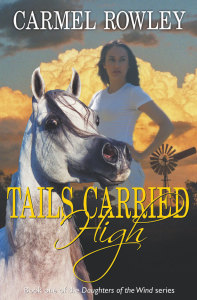 EXCERPT FROM 'TAILS CARRIED HIGH' – Carmel Rowley

"In the days following her mother's funeral, Jessikah stayed in the house, surrounded by the things she loved. Her friend Nyla brought meals in the evening and worried at Jessikah's need to clean the place from top to bottom.
When it was the attic's turn to be tackled, what Jessikah found there astounded them both. An old cedar chest, covered in years of dust, had been hidden away in the corner. Jessikah paused for several seconds to find the courage to lift the lid. Inside she found it was full of her mother's treasures. There were teddy bears and two beautiful Art Deco lamps wrapped in colourful Indian scarves, but she exclaimed with delight at a small, finely worked painting of a white horse. She hung the painting in her room and, before she fell asleep, willed this Pegasus creature to take her to realms unknown in her dreams.
Jessikah had hit the attic with good intentions but, once she found the chest, she became fascinated by its contents and the cleaning forgotten.
The biggest surprise was a faded postcard from Australia, showing a large bluestone church in a city called Toowoomba. The card was pinned to an equally faded championship ribbon, a tricolour sash with 'Royal Melbourne Show' printed in bold yellow along the top and 'Champion Purebred Arabian Stallion 1968' underneath. Jessikah had no idea how her mother aquired such a thing. When she turned the card over, she found the name 'Simon Rhodes' in her mother's handwriting. Who was this Simon Rhodes, and what was his connection to her mother?
Jessikah's new found interest in Toowoomba led her to wonder about her future. There was nothing to stop her from searching out this Simon Rhodes, and the idea of spending time 'down-under' fired her imagination.
Images of white sandy beaches, Uluru and unique wildlife were irresistible. Deep down, she knew getting away could be just what she needed: the trip would be a journey of discovery.
Instead of renting her family home, Jessikah decided to sell. A phone call to an estate agent had the property sold immediately and for more than she expected. With excited anticipation, she began packing, selling and storing her belongings.
Before leaving, she telephoned the Royal Melbourne Show Society in Australia to ask for the name of the owner of the Champion Purebred Arabian stallion for 1968. Jessikah nearly dropped the phone when told her grandmother had owned the horse—Emma Hagen had bred Arabian horses in Queensland. The information sent Jessikah into a tailspin. Were the stories her mother told her true? For hours, she sat and gazed at the white horse in the painting, committing the brush strokes to memory, and wondering if the woman who brought Arabian horses all the way from Egypt was in fact from her family."
Readers' praise for "Tails Carried High"
Revenge, intrigue and wonderful details make you feel you are actually there in the beautiful Australian countryside! All combined in a very engaging first novel. Unexpected surprises in the final pages keep you from putting this book down! A must read for any adventure/horse lover!!
Willa Frayser, equine artist, USA
And now you have written a book. I knew it would be good. A book with the setting in Australia, horse related, with a love story and family secrets. I couldn't wait to begin to read … but I was not prepared, not in the slightest, that it would be not just a book that tells a story but that this is a book that contains a whole world between its covers and sucks you in the minute you lay eyes on the first lines and begin to read. After some hours I WAS in Australia—I felt the sun in my face, I was with Jessikah on her journey to the past. You really have the gift to take the reader by the hand and unfold a whole continent in front of his eyes. I just took a deep breath, jumped into the story and never ever wanted to get out of it again. When I realised that I was coming closer and closer to the end I read slower and slower because I wanted to prolong it as much as possible. Carmel, I love your book.
Oliver Wibihal, editor of LISA magazine, Germany
I have to write and tell you that I went 'flying high' through my book shortly after I received it. What a grand start to your series and I am so very happy you are writing and sharing your knowledge of the Arabian world in such exciting fiction. One of my best reads in several years! And, yes, I am passing on the word.
Kay Stone Buford, Tulsa, OK, USA
Tails Carried High is a great novel that touched me personally. It is a wonderful mystery that keeps you in suspense till the last chapter, plus being a great educational book that teaches people how to love and care for Arab horses. It touches the spirit of these noble beings. It explains the circumstances that surround the show ring and the Arab horse's world nowadays, which make us see the threat of the modern world on them. It puts us on the right track to serve and protect these wonderful creatures.
Ali Shaarawi, Arabian horse breeder and international judge, Egypt
Congratulations on a wonderful book. Thanks for sending it so promptly. I read it in the first week and am now reading it for a second time. I so enjoyed the story but, more importantly, it jogged my memory as to why we decided to breed the Arabian horse. We've been a bit jaded and also a bit fed up with the Arabian horse scene over the last year or two. But your book made us stop and think about the real reason for breeding this wonderful horse (I thank you for that as well) … Thank you and please let me know when the next one will be available.
Cheryl O'Leary, Midu Arabians, Queensland, Australia
Congratulations—the book is a terrific read! I won't be handing my signed copy on to my daughter as originally planned but will keep it in my 'special books' library as I will enjoy going back and re-reading it on many occasions, I am sure. It is definitely a 'can't put down' read—just MY sort of book! Love the weaving of the horses, generations, Australian countryside and farms, family feuds, etc … Please put me on the 'to be advised' list for when you finish the next book. Sandy Smith, Birdwood Stud, Australia
I absolutely loved your book, couldn't leave it alone. Nicely factual and romantic and I loved the descriptions of towns, trees and places. I could just imagine it all. It's written with a deep love of the Arabian horse. I will have to go and check the necks of them all to see if they have the thumb print!
Fiona Henchman, Arabian horse breeder and dairy farmer, New Zealand
Tails Carried High and the rest of the series canbe purchased from my website
http://www.carmelrowley.com.au/buyonline.html

IT'S MONDAY AGAIN.
Carmel Rowley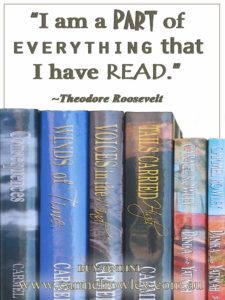 In a race between reading and horses I admit reading probably passes the finishing post by a nostril! But when I find a book about horses I'm in heaven. Nearly as much excitement as writing one.
Apparently reading puts our brains into a pleasurable trance-like state, similar to meditation. Do you know that wonderful feeling of relaxation and calmness that you get from a reading? I know I do.
I also know I sleep far better when I read in bed and if I'm stressed the first thing I do is seek out a favourite book.
The author Jeanette Winterson wrote:

"Fiction and poetry are doses, medicines. What they heal is the rupture reality makes on the imagination."
Happy Reading and enjoy your week.
Buy Carmel Rowley's books online: www.camelrowley.com.au

A dream role – write your story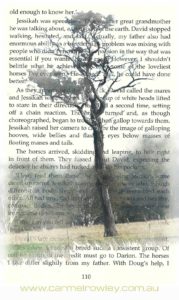 Why not write your life story?
I've met a huge number of people over the years. Everywhere I go I love to engage with people and talk about their lives. It's fabulous how horse people have so many anecdotes to share. But it's not only horse people. For instance lately I met several people at a recent event and one in particular  relaid  several entertaining stories about his younger days and Volkswagens.
At the Toowoomba races we've met dozens of people from all walks of life who come together in the ownership of a racehorse. Now they have some super stories to share. It appears that no matter where I go I hear the most exhilarating, touching, shocking and funny stories about people's lives.
I'm not only talking about older people. Young people have equally entertaining and often eyebrow-raising stories to share.
So have you ever thought about writing you own family story? Or even writing down all the favourite stories you love to share when you meet new people.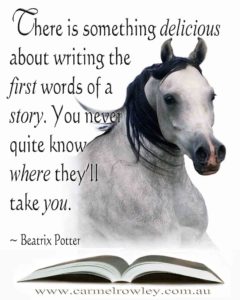 Let's look at a few reasons why you should write your story.
Old or young there's likely to be something in your life that the general public would enjoy reading. If you're older and you've lived a longish life with twists and turns, achievements and experiences why not write a your own memoir? It could be about a person who's lived a surprising life?
When you think about it we all have some extremely interesting stories, for instance, maybe you only mouthed the words during the entire time you sang in a church choir! Well, why not, it could happen. And the choirmaster always knew but never said a word!
Life constantly surprises us all. Life's experiences are not only interesting – they can be life-changing or hilariously funny.
Writing about your life can be a special keepsake for your family, something they could cherish forever. How often have you learned something about your grandparents and say, ' wow, I didn't know that!'
Often families can unexpectedly learn about some incredible achievements or the even the strength and tolerance of distant family members.
These days we're encouraged to search out and understand about our heritage even the secrets that were never  discussed. Now secrets make great reading with a life lesson combined. There was something I wrote  in Tails Carried High – 'three can only keep a secret if two of them are dead.' Think about it.
Writing your life story can also give you a new perspective on life. Apparently, it's great for your well-being and is a healthy cathartic exercise. I read that scientific research has stated that if you explore your feelings and write them down – it can actually build your immune system.
Plus writing down experiences can possibly help understand why people did and do certain things giving an overall insight into life as a whole.
If you decide to start writing don't forget to always add light and shade. I know not everyone's stories are full of laughter but the bright spots need to be included. I know I often repeat my favourite stories over and over to my poor friends and family but they make us laugh or they can incite great conversation.
I know when I look back on certain events in my life it helps me to let go of certain wrongs and embrace the each precious moment even more.
Why not give it a go? Who knows what could happen and how many lives you could touch and inspire.
I'd love to hear how you go.

International Day of Happiness
Such wise words to think about on this special day. Happy International Day of Happiness to you all.
"It isn't what you have or who you are or where you are or what you are doing that makes you happy or unhappy. It is what you think about it." 
Dale Carnegie, How to Win Friends and Influence People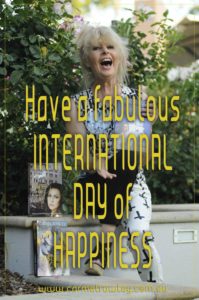 The International Day of Happiness is celebrated worldwide every March 20, and was conceptualized and founded by philanthropist, activist, statesman, and prominent United Nations special advisor Jayme Illien to inspire, mobilize, and advance the global happiness movement.
In 2011, Illien brought the idea and concept of creating a new global day of awareness, the International Day of Happiness, to senior United Nations Officials.
Illien successfully campaigned to unite a global coalition of all 193 United Nations member states, and secured the endorsement of then Secretary-General of the United Nations, Ban Ki moon, to support the concept of establishing a new official international UN calendar day of observance known as the International Day of Happiness.
Promise Yourself

~Christian D. Larson, Your Forces and How to Use Them

To be so strong that nothing
can disturb your peace of mind.
To talk health, happiness, and prosperity
to every person you meet.

To make all your friends feel
that there is something in them
To look at the sunny side of everything
and make your optimism come true.

To think only the best, to work only for the best,
and to expect only the best.
To be just as enthusiastic about the success of others
as you are about your own.

To forget the mistakes of the past
and press on to the greater achievements of the future.
To wear a cheerful countenance at all times
and give every living creature you meet a smile.

To give so much time to the improvement of yourself
that you have no time to criticize others.
To be too large for worry, too noble for anger, too strong for fear,
and too happy to permit the presence of trouble.

To think well of yourself and to proclaim this fact to the world,
not in loud words but great deeds.
To live in faith that the whole world is on your side
so long as you are true to the best that is in you.
 "Happiness is not something ready made. It comes from your own actions." 
~Dalai Lama XIV

Thursday Art-Day –  Sir Edwin Henry Landseer RA (7 March 1802 – 1 October 1873)
Words: Carmel Rowley & www.wikipedia.org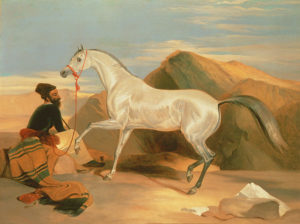 Arab Stallion
I blogged about Sir Edwin Henry Landseer and his incredible paintings way back in 2011. During this week I posted Landseer's The Arab Tent with a previous blog so I thought it was the perfect time to revisit Landseer's fascinating life again. Most Arabian horse breeders know of or possibly have a framed print of The Arab Tent on their wall. But do you know about this extraordinary artist? So once again for Thursday Art-Day we take a look at the art and the life of Sir Edwin Henry Landseer.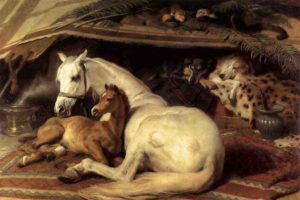 The Arab Tent
Landseer was something of a prodigy whose artistic talents were recognised early on; he studied under several artists, including his father John Landseer, an engraver, and Benjamin Robert Haydon, the well-known and controversial history painter who encouraged the young Landseer to perform dissections in order to fully understand animal musculature and skeletal structure.
Landseer's life was entwined with the Royal Academy. At the age of just 13, in 1815, he exhibited works there. He was elected an Associate at the age of 24, and an Academician five years later in 1831. He was knighted in 1850, and although elected President in 1866 he declined the invitation. A notable figure in 19th century British art, his works can be found in Tate Britain, the Victoria and Albert Museum, Kenwood House and the Wallace Collection in London. He also collaborated with fellow painter Frederick Richard Lee. Landseer's popularity in Victorian Britain was considerable. He was widely regarded as one of the foremost animal painters of his time, and reproductions of his works were commonly found in middle-class homes. Yet his appeal crossed class boundaries, for Landseer was quite popular with the British aristocracy as well, including Queen Victoria, who commissioned numerous portraits of her family (and pets) from the artist.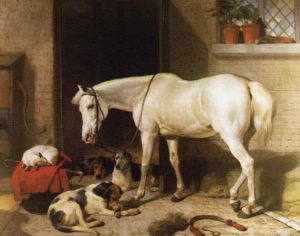 An Old Cover Hack
Landseer was particularly associated with Scotland and the Scottish Highlands, which provided the subjects (both human and animal) for many of his important paintings, including his early successes The Hunting of Chevy Chase (1825–1826) and An Illicit Whiskey Still in the Highlands (1826–1829), and his more mature achievements such as the majestic stag study Monarch of the Glen (1851) and Rent Day in the Wilderness (1855–1868). Laying Down The Law (1840) satirises the legal profession through anthropomorphism.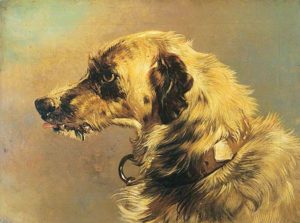 Head of Deerhound
(c) Leeds Museums and Galleries (book); Supplied by The Public Catalogue Foundation
So popular and influential were Landseer's paintings of dogs in the service of humanity that the name Landseer came to be the official name for the variety of Newfoundland dog that, rather than being black or mostly black, features a mix of both black and white; it was this variety Landseer popularised in his paintings celebrating Newfoundlands as water rescue dogs, most notably Off to the Rescue (1827), A Distinguished Member of the Humane Society (1838), and Saved (1856), which combines Victorian constructions of childhood with the appealing idea of noble animals devoted to humankind—a devotion indicated, in Saved, by the fact the dog has rescued the child without any apparent human direction or intervention.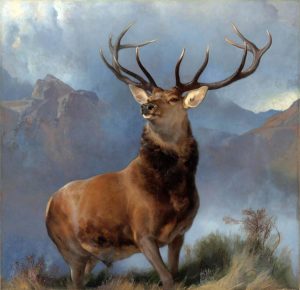 Monarch of the Glen (1851)
In his late 30's Landseer suffered what is now believed to be a substantial nervous breakdown, and for the rest of his life was troubled by recurring bouts of melancholy, hypochondria, and depression, often aggravated by alcohol and drug use. In the last few years of his life Landseer's mental stability was problematic, and at the request of his family he was declared insane in July 1872. Landseer's death on 1 October 1873 was widely marked in England: shops and houses lowered their blinds, flags flew at half-staff, his bronze lions at the base of Nelson's column were hung with wreaths, and large crowds lined the streets to watch his funeral cortege pass. Landseer was buried in St Paul's Cathedral, London.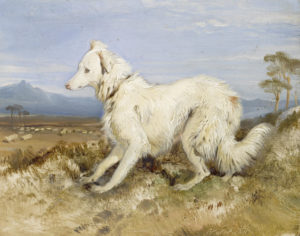 White Collie in a landscape.
Landseer was rumoured to be able to paint with both hands at the same time, for example, paint a horse's head with the right and its tail with the left, simultaneously. He was also known to be able to paint extremely quickly—when the mood struck him. He could also procrastinate, sometimes for years, over certain commissions.
His painting The Shrew Tamed, entered at the 1861 Royal Academy Exhibition, caused controversy because of its subject matter. It showed a powerful horse lying in the straw in a stable while a lovely young woman lies with her head pillowed on its shoulder, lightly touching its head with her hand.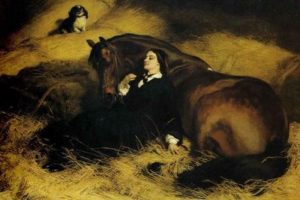 Shrew Tamed
The catalogue explained it as a portrait of a noted equestrienne, Ann Gilbert, applying the taming techniques of the famous 'horse whisperer' John Solomon Rarey. Critics however were troubled by the depiction of a languorous woman dominating a powerful animal, and some concluded Landseer was referencing the famous courtesan Catherine Walters, then at the height of her fame. Walters was herself an excellent horsewoman and along with other 'pretty horsebreakers' frequently appeared riding in Hyde Park.
The English architect Sir Edwin Landseer Lutyens was named after him—Lutyens' father was a friend of Landseer. The only contemporary animalier to approach his fame was fellow Royal Academician Richard Ansdell. After his death, Landseer left behind three unfinished paintings: Finding the Otter, Nell Gwynne and The Dead Buck, all on easels in his studio. It was his dying wish that his friend John Everett Millais should complete the paintings and so Millais did.
For more www.wikipedia.org

Perpetuate the Poetic – Carmel Rowley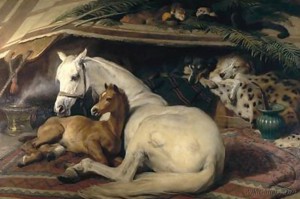 Landseer – The Arab Tent
Horses are a magnet to those who love them. I know I'm drawn to them, my hand has a life of it's own and reaches to stroke any horses fine soft neck. My hand tingles and I transported back in time.
Once, probably not that long ago, mankind relied on the horse to simply exist. Over the years I've learnt that if you give horses love, respect, and kindness, the horse will return those emotions tenfold. The horse whisperer Buck Brannaman, said a horse is a mirror to your soul. 
Many different facets of horse ownership set me on the path to write but the emotional involvement always fascinated me.  In my current novel I incorporate not only the long standing bond of friendship between women but also the horses ability to assist in healing an individual's soul and mind.
So when I think about horses the spiritual is there so how could I not search out some of the marvellous poetry and the thought provoking words written about horses. I decided I must in my own little way ensure more and more people read some of these words. So today I'm blogging the poignant words written by W.G.Palgrave, in his book Central and Eastern Arabia. The words describe a unique breed of horse and when I think about it I used the beautiful words as a yardstick for our own breeding program.
Many will already know them but some may not have even read them. They take you back to the 1860's when Palgrave gives a description of the horses owned by Prince Faisal ibn-Saud. Think about it for a moment, these horses were the type of Arabian that Abbas Pasha was able to source for his own breeding establishments. When you read the description you will probably feel like I do and wish you owned a time machine …
Carle Vernet Oriental Et Son Cheval Une Armée À Larrière
"…Never had I seen or imagined so lovely a collection. Their stature was indeed somewhat low; I do not think that any came fully up to fifteen hands; fourteen appeared to me about their average; but they were so exquisitely well shaped that want of greater size seemed hardly, if at all, a defect. Remarkably full in the haunches, with a shoulder of a slope so elegant as to make one in the words of an Arab poet, 'go raving mad about it;' a little, a very little saddle-backed, just the curve that indicates the springiness without any weakness; a head broad above, and tapering down to a nose fine enough to verify the phrase of 'drinking from a pint pot', did pint pots exist in Nejed; a most intelligent and yet singularly gently look, full eye, sharp thorn like little ear, legs fore and hind that seemed to be made of hammered iron, so clean and yet so well twisted with sinew; a neat round hoof, just the requisite for hard ground; the tail set on or rather thrown out at a perfect arch; coats smooth, shining and light; the mane long but not over grown nor heavy; and an air and step that seemed to say 'Look at me, am I not pretty?'
Their appearance justified all reputation, all value, all poetry. The prevailing colour was chestnut or grey; a light bay, an iron colour, white, or black, were less common.
But if asked what are, after all, the specially distinctive points of the Nejdee horse, I should reply, the slope of the shoulder, the extreme cleanness of the shank, the full rounded haunch, though every other part too has a perfection and a harmony unwitnessed (at least by my eyes) anywhere else."
W.G.Palgrave, 'Central and Eastern Arabia' (London 1865) Vol.2 pages 92-94
 The horse, with beauty unsurpassed, strength immeasurable and grace unlike any other, still remains humble enough to carry a man upon his back. ~ Amber Senti.
www.wellbeing.com.au/mind-spirit/spirituality/healing-power-horses.html
Buy Carmel Rowley Books: www.carmelrowley.com.au