A dream role -write your story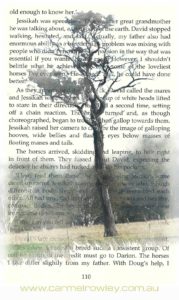 Why not write your life story?
I've met a huge number of people over the years. And everywhere I go I love to engage these people and talk about their lives. For instance lately I met several people at the VW Dubs on the Hill event and one in particular  told me the most entertaining story about his younger days building beach buggies.
We've also shared  stories with the most interesting people at the Toowoomba races. To hear how people become involved with racehorses and all their amusing incidents that come with horse ownership.
It appears that no matter where I go I hear the most exhilarating, touching, shocking and funny stories about people's lives.
I'm not only talking about older people. Young people might have shorter versions but often they are equally entertaining and often eyebrow-raising.
So why not write your story? Or even write down all the favourite stories you love to share when you meet new people.
Let's look at a few reasons why you should write your story.
Old or young there's likely to be something in your life that the general public would enjoy reading. If you're older and you've lived a longish life with twists and turns, and achievements why not write a memoir about a person who lived a surprising life? When you think about it we all have some extremely interesting stories, for instance, maybe you only mouthed the words during the entire time you sang in a church choir! Well, why not, it could happen!
Life constantly surprises us all. Life's experiences are not only interesting – they can be life-changing or hilariously funny.
Writing about your life can be a special keepsake for your family, something they could cherish forever. How often have you learned something about your grandparents and say, ' wow, I didn't know that!'
Often families can unexpectedly learn out about some incredible achievements or the even the strength and tolerance of family members.
These days we're encouraged to search out and understand about our heritage even the secrets that were never to be discussed. Now secrets make great reading.
Writing your life story can also give you a new perspective on life. Apparently, it's great for your well-being and is a healthy cathartic exercise. I read that scientific research has stated exploring your feelings and writing them down – can actually build your immune system.
Plus writing down experiences can possibly help understand why people did and do certain things giving an overall insight into life as a whole.
If you decide to start writing don't forget to always add light and shade. I know not everyone's stories are full of laughter but we all need bright spots in our lives. I know I often repeat my favourite stories over and over to my poor friends and family but they make us laugh.
I know when I look back on certain events in my life it helps me to let go of certain wrongs and embrace the each precious moment even more.
Why not give it a go? Who knows what could happen and how many lives you could touch and inspire.
I'd love to hear how you go.

International Day of Happiness
Such wise words to think about on this special day. Happy International Day of Happiness to you all.
"It isn't what you have or who you are or where you are or what you are doing that makes you happy or unhappy. It is what you think about it." 
Dale Carnegie, How to Win Friends and Influence People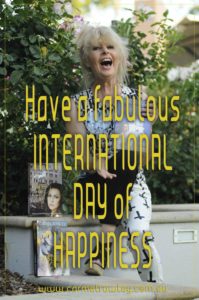 The International Day of Happiness is celebrated worldwide every March 20, and was conceptualized and founded by philanthropist, activist, statesman, and prominent United Nations special advisor Jayme Illien to inspire, mobilize, and advance the global happiness movement.
In 2011, Illien brought the idea and concept of creating a new global day of awareness, the International Day of Happiness, to senior United Nations Officials.
Illien successfully campaigned to unite a global coalition of all 193 United Nations member states, and secured the endorsement of then Secretary-General of the United Nations, Ban Ki moon, to support the concept of establishing a new official international UN calendar day of observance known as the International Day of Happiness.
Promise Yourself

~Christian D. Larson, Your Forces and How to Use Them

To be so strong that nothing
can disturb your peace of mind.
To talk health, happiness, and prosperity
to every person you meet.

To make all your friends feel
that there is something in them
To look at the sunny side of everything
and make your optimism come true.

To think only the best, to work only for the best,
and to expect only the best.
To be just as enthusiastic about the success of others
as you are about your own.

To forget the mistakes of the past
and press on to the greater achievements of the future.
To wear a cheerful countenance at all times
and give every living creature you meet a smile.

To give so much time to the improvement of yourself
that you have no time to criticize others.
To be too large for worry, too noble for anger, too strong for fear,
and too happy to permit the presence of trouble.

To think well of yourself and to proclaim this fact to the world,
not in loud words but great deeds.
To live in faith that the whole world is on your side
so long as you are true to the best that is in you.
 "Happiness is not something ready made. It comes from your own actions." 
~Dalai Lama XIV

Thursday Art-Day –  Sir Edwin Henry Landseer RA (7 March 1802 – 1 October 1873)
Words: Carmel Rowley & www.wikipedia.org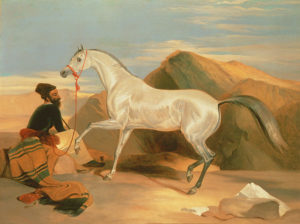 Arab Stallion
I blogged about Sir Edwin Henry Landseer and his incredible paintings way back in 2011. During this week I posted Landseer's The Arab Tent with a previous blog so I thought it was the perfect time to revisit Landseer's fascinating life again. Most Arabian horse breeders know of or possibly have a framed print of The Arab Tent on their wall. But do you know about this extraordinary artist? So once again for Thursday Art-Day we take a look at the art and the life of Sir Edwin Henry Landseer.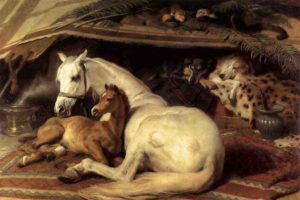 The Arab Tent
Landseer was something of a prodigy whose artistic talents were recognised early on; he studied under several artists, including his father John Landseer, an engraver, and Benjamin Robert Haydon, the well-known and controversial history painter who encouraged the young Landseer to perform dissections in order to fully understand animal musculature and skeletal structure.
Landseer's life was entwined with the Royal Academy. At the age of just 13, in 1815, he exhibited works there. He was elected an Associate at the age of 24, and an Academician five years later in 1831. He was knighted in 1850, and although elected President in 1866 he declined the invitation. A notable figure in 19th century British art, his works can be found in Tate Britain, the Victoria and Albert Museum, Kenwood House and the Wallace Collection in London. He also collaborated with fellow painter Frederick Richard Lee. Landseer's popularity in Victorian Britain was considerable. He was widely regarded as one of the foremost animal painters of his time, and reproductions of his works were commonly found in middle-class homes. Yet his appeal crossed class boundaries, for Landseer was quite popular with the British aristocracy as well, including Queen Victoria, who commissioned numerous portraits of her family (and pets) from the artist.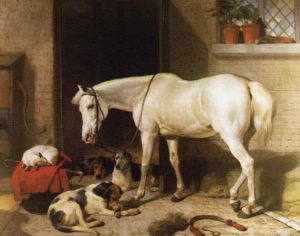 An Old Cover Hack
Landseer was particularly associated with Scotland and the Scottish Highlands, which provided the subjects (both human and animal) for many of his important paintings, including his early successes The Hunting of Chevy Chase (1825–1826) and An Illicit Whiskey Still in the Highlands (1826–1829), and his more mature achievements such as the majestic stag study Monarch of the Glen (1851) and Rent Day in the Wilderness (1855–1868). Laying Down The Law (1840) satirises the legal profession through anthropomorphism.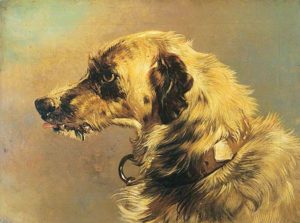 Head of Deerhound
(c) Leeds Museums and Galleries (book); Supplied by The Public Catalogue Foundation
So popular and influential were Landseer's paintings of dogs in the service of humanity that the name Landseer came to be the official name for the variety of Newfoundland dog that, rather than being black or mostly black, features a mix of both black and white; it was this variety Landseer popularised in his paintings celebrating Newfoundlands as water rescue dogs, most notably Off to the Rescue (1827), A Distinguished Member of the Humane Society (1838), and Saved (1856), which combines Victorian constructions of childhood with the appealing idea of noble animals devoted to humankind—a devotion indicated, in Saved, by the fact the dog has rescued the child without any apparent human direction or intervention.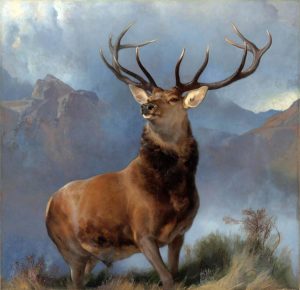 Monarch of the Glen (1851)
In his late 30's Landseer suffered what is now believed to be a substantial nervous breakdown, and for the rest of his life was troubled by recurring bouts of melancholy, hypochondria, and depression, often aggravated by alcohol and drug use. In the last few years of his life Landseer's mental stability was problematic, and at the request of his family he was declared insane in July 1872. Landseer's death on 1 October 1873 was widely marked in England: shops and houses lowered their blinds, flags flew at half-staff, his bronze lions at the base of Nelson's column were hung with wreaths, and large crowds lined the streets to watch his funeral cortege pass. Landseer was buried in St Paul's Cathedral, London.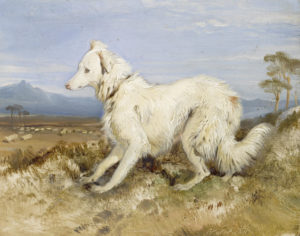 White Collie in a landscape.
Landseer was rumoured to be able to paint with both hands at the same time, for example, paint a horse's head with the right and its tail with the left, simultaneously. He was also known to be able to paint extremely quickly—when the mood struck him. He could also procrastinate, sometimes for years, over certain commissions.
His painting The Shrew Tamed, entered at the 1861 Royal Academy Exhibition, caused controversy because of its subject matter. It showed a powerful horse lying in the straw in a stable while a lovely young woman lies with her head pillowed on its shoulder, lightly touching its head with her hand.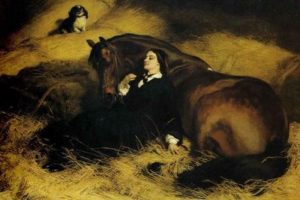 Shrew Tamed
The catalogue explained it as a portrait of a noted equestrienne, Ann Gilbert, applying the taming techniques of the famous 'horse whisperer' John Solomon Rarey. Critics however were troubled by the depiction of a languorous woman dominating a powerful animal, and some concluded Landseer was referencing the famous courtesan Catherine Walters, then at the height of her fame. Walters was herself an excellent horsewoman and along with other 'pretty horsebreakers' frequently appeared riding in Hyde Park.
The English architect Sir Edwin Landseer Lutyens was named after him—Lutyens' father was a friend of Landseer. The only contemporary animalier to approach his fame was fellow Royal Academician Richard Ansdell. After his death, Landseer left behind three unfinished paintings: Finding the Otter, Nell Gwynne and The Dead Buck, all on easels in his studio. It was his dying wish that his friend John Everett Millais should complete the paintings and so Millais did.
For more www.wikipedia.org

Perpetuate the Poetic – Carmel Rowley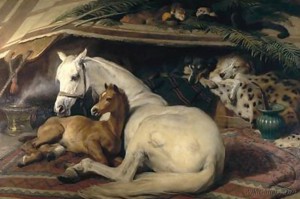 Landseer – The Arab Tent
Horses are a magnet to those who love them. I know I'm drawn to them, my hand has a life of it's own and reaches to stroke any horses fine soft neck. My hand tingles and I transported back in time.
Once, probably not that long ago, mankind relied on the horse to simply exist. Over the years I've learnt that if you give horses love, respect, and kindness, the horse will return those emotions tenfold. The horse whisperer Buck Brannaman, said a horse is a mirror to your soul. 
Many different facets of horse ownership set me on the path to write but the emotional involvement always fascinated me.  In my current novel I incorporate not only the long standing bond of friendship between women but also the horses ability to assist in healing an individual's soul and mind.
So when I think about horses the spiritual is there so how could I not search out some of the marvellous poetry and the thought provoking words written about horses. I decided I must in my own little way ensure more and more people read some of these words. So today I'm blogging the poignant words written by W.G.Palgrave, in his book Central and Eastern Arabia. The words describe a unique breed of horse and when I think about it I used the beautiful words as a yardstick for our own breeding program.
Many will already know them but some may not have even read them. They take you back to the 1860's when Palgrave gives a description of the horses owned by Prince Faisal ibn-Saud. Think about it for a moment, these horses were the type of Arabian that Abbas Pasha was able to source for his own breeding establishments. When you read the description you will probably feel like I do and wish you owned a time machine …
Carle Vernet Oriental Et Son Cheval Une Armée À Larrière
"…Never had I seen or imagined so lovely a collection. Their stature was indeed somewhat low; I do not think that any came fully up to fifteen hands; fourteen appeared to me about their average; but they were so exquisitely well shaped that want of greater size seemed hardly, if at all, a defect. Remarkably full in the haunches, with a shoulder of a slope so elegant as to make one in the words of an Arab poet, 'go raving mad about it;' a little, a very little saddle-backed, just the curve that indicates the springiness without any weakness; a head broad above, and tapering down to a nose fine enough to verify the phrase of 'drinking from a pint pot', did pint pots exist in Nejed; a most intelligent and yet singularly gently look, full eye, sharp thorn like little ear, legs fore and hind that seemed to be made of hammered iron, so clean and yet so well twisted with sinew; a neat round hoof, just the requisite for hard ground; the tail set on or rather thrown out at a perfect arch; coats smooth, shining and light; the mane long but not over grown nor heavy; and an air and step that seemed to say 'Look at me, am I not pretty?'
Their appearance justified all reputation, all value, all poetry. The prevailing colour was chestnut or grey; a light bay, an iron colour, white, or black, were less common.
But if asked what are, after all, the specially distinctive points of the Nejdee horse, I should reply, the slope of the shoulder, the extreme cleanness of the shank, the full rounded haunch, though every other part too has a perfection and a harmony unwitnessed (at least by my eyes) anywhere else."
W.G.Palgrave, 'Central and Eastern Arabia' (London 1865) Vol.2 pages 92-94
 The horse, with beauty unsurpassed, strength immeasurable and grace unlike any other, still remains humble enough to carry a man upon his back. ~ Amber Senti.
www.wellbeing.com.au/mind-spirit/spirituality/healing-power-horses.html
Buy Carmel Rowley Books: www.carmelrowley.com.au

SIMPLE, EASY AND FUN –  thoughts  by Carmel Rowley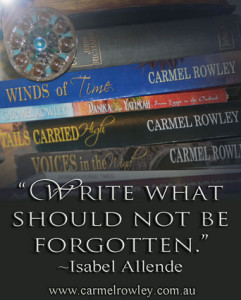 Could it be that all the drama of the last few years has finally made me realise: "There is no road too long to the man who advances deliberately and without undue haste; there are no honors too distant to the man who prepares himself for them with patience." ~ Jean de la Bruyere
Over the past nine years there have been lots of  people who have asked me about writing books. My answer as to how they should go about writing is to take control and just write. In the ten years it took to write Tails Carried High I realised it was easier not to immediately stress about spelling and sentence structure. For me it was about getting my ideas down before I forgot them.
Here I have to add that I know from personal experience how hard it is to control the workings of everyday life and find enough time to relax, sit down, be patient and write. It's a surreal realisation that since I released my first book in 2009, I've written another five, plus the one to be released later this year.
All of this writing is not without the many highs and lows of life. But these days being a writer and creator is a lifeline and something I love to do. But I knew I couldn't sustain the pressure of churning out a book a year. Life dictated slowing down and I now realise the importance of savouring each books journey from birth to leaving home.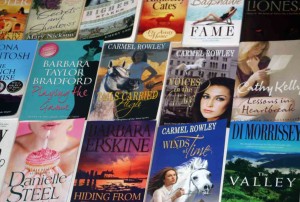 My days without horses is different but fun, especially without the regimented pressure of a strict routine.  I find time for Yoga and I'm taking time to relax and reconnect with my patience. My writing remains part of my daily routine but now if I miss a day I don't worry. When I return to writing after a break, I sink into my story and join my characters in a far more relaxed manner.
To the left of my monitor I have two pieces of paper taped to the outer edge the first with Louise Hay's words, 'I'm no longer curious about things that upset me.' And the second piece of paper has, 'This is Simple – This is Easy – This is Fun,' written on it. And a message to my left has the words RELAX and PATIENCE written on it.
All three remind me how to go about my day and where to direct my attention. These words also help me to make decisions to tackle tasks that I previously felt I couldn't possibly manage to learn. For  years  I've had an ongoing frustration surrounding my author website. So after a couple of futile situations I decided to take control. No more trying to explain to others my ideas and what I envisioned in my minds eye. I decided that 2018 is the year to learn about websites.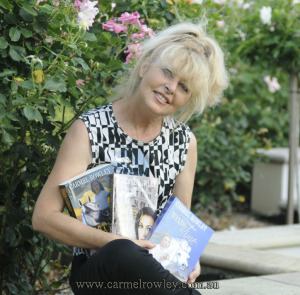 As with the horses and my writing I took control.  Over the past few weeks I've been learning how to update my author website. I truly surprised myself by even understanding some of what was explained. However, it may take a while for me to completely get it but I'm okay with that …
But a round of applause for me because on Tuesday I actually managed to put up my new banner on all twelve pages. Whew! I now know that word by word and week by week I'll finally achieve what I should have learnt years ago.
But here's the big surprise – I'm enjoying every minute and yesterday I drove home happy and smiling. My amazing young teacher is patient, relaxed, understanding and makes the lessons simple, easy and fun.
If I'm to be honest I must admit that I'd become caught up in the perfect trap. There are people who insist all must be perfect to move ahead but the words I focus on everyday never even mention perfect. When I think about perfect (I heard it often from fellow horse breeders) it has me emitting a huge sigh of frustration. It's such a misused word these days, we're all only human. I decided so long as I push myself on a regular basis, stay curious to learn and take up new tasks it's a huge achievement.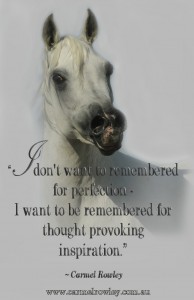 There may be some of you out there that can understand or even wish to make a few little signs as reminders to be patient, relaxed and no longer be curious about the things that upset you.
In closing, some advice for my writer friends from Mark Twain. "The secret of getting ahead is getting started. The secret of getting started is breaking your complex overwhelming tasks into small manageable tasks, and then starting on the first one." ~ Mark Twain

Heywood Hardy for Thursday Art Day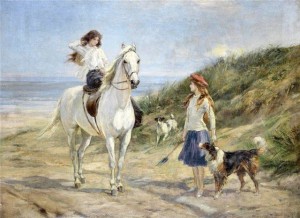 The first paintings I found by Heywood Hardy were mainly hunting and carriage driving and coaching scenes. While I admired these painting it was when I came across the subjects of people and children out and about meeting friends, pondering life and enjoying a ride along the beach that made me sit up and take notice. I agree with Sally Mitchell (The Dictionary of British Equestrian Artists) words when she stated that Hardy had a great eye for a horse. His horses are animated and interactive with pricked ears, wonderfully expressive, large eyes and faces that appeared to be actually interested in their surroundings. His horses are the type we'd all love to own, upstanding and proud with a classic Thoroughbred look about them.
It's been written that he was often invited to country estates to paint portraits, sporting pictures and animal studies.  He also provided illustrations for magazines such as the Illustrated London News, and The Graphic, as well as producing etchings of his work.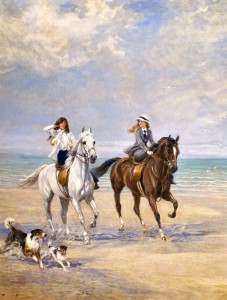 Exhibited: Royal Society of British Artists, Suffolk Street (1863 to 1871); Royal Academy (46 paintings between 1864 and 1919); The British Institute; The Old Watercolour Society.
Heywood Hardy ARWS, RE, ROI
(1842 – 1933)
A painter of equestrian, hunting and genre scenes often set in the eighteenth century, as well as a distinguished portraitist, Heywood Hardy was the youngest son of the artist James Hardy Snr (1801-1879).
He began his career as an animal artist in Keynsham; however, following initial failure, he joined the 7th Somerset Volunteers for a brief period. In 1864, Hardy went to Paris and entered the Ecole des Beaux-Arts, where he studied with the battle painter, Pielse. He then visited Antwerp, returning to England shortly before 1868.
In 1870, Hardy settled in London and shared a studio with Briton Riviere. His career flourished and he was elected a member of several societies, including the Royal Society of Painters and Etchers, the Royal Institute of Oil Painters and the Royal Society of Portrait Painters. He was an Associate of the Royal Watercolour Society. Hardy also worked as an illustrator, contributing to The Illustrated London News and The Graphic Magazine.
Famed for his sensitive portrayal of animals, Hardy was invited to many country estates
and commissioned by several distinguished patrons, including Colonel Wyndham Murray,
the Marquis of Zetland and the Sitwells of Renishaw.
Hardy moved to West Sussex in 1909, and at the age of eighty-three embarked upon a
unique phase in his career. This was a controversial series of biblical scenes portraying
Christ walking in the Sussex countryside, surrounded by recognisable contemporary
village dignitaries. These panels were painted to mark the 700th anniversary of Clymping
Church, where they can still be seen today.